---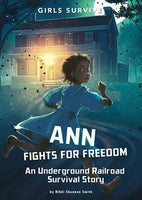 by Nikki Shannon Smith, Illustrated by Alessia Trunfio
Stone Arch Books

2/1/2019, paperback
SKU: 9781496580139
Twelve-year-old Ann understands there is only one thing to be grateful for as a slave: having her family together. But when the master falls into debt, he plans to sell both Ann and her younger brother to two different owners. Ann is convinced her family must run away on the Underground Railroad. Will Ann's family survive the dangerous trip to their freedom in the North?
This Girls Survive story is supported by a glossary, discussion questions, and nonfiction material on the Underground Railroad, making it a valuable resource for young readers.
Target age: 8 to 12
About the Contributors:
Nikki Shannon Smith is from Oakland, California, but she now lives in the Central Valley with her husband and two children. She has worked in Elementary Education for over twenty-five years, and writes everything from picture books to young adult novels. When she's not busy with family, work, or writing, she loves to visit the coast. The first thing she packs in her suitcase is always a book.
Alessia Trunfio was Born in southern Italy in 1990 but she grew up in Rome, where she still lives. She has wanted to be an illustrator since she was a child. After a Degree in the Animation course of the International School of Comics based in Rome in 2013, Alessia has worked as Background Artist for some of the most important roman animation studios. She currently works as a freelance artist on various Animation and illustration projects.