---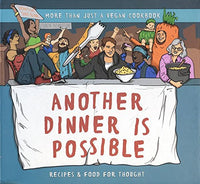 by Mike and Isy
Active Distribution
5/18/2017, hardcover
SKU: 9781939202260
Another Dinner Is Possible is not your average vegan cookbook—It's a guide to developing a healthier relationship with the food we eat and the planet we inhabit. And it is an exploration of how food affects us on all levels and how we can improve our practical and political relationship to it.
The emphasis is on innovative simplicity: these recipes use easy-to-find and easy-to-prepare ingredients combined in unexpected ways. All the basics of everyday cooking are covered for those just starting out in the kitchen (with detailed instructions and essential tips on everything from sharpening knives to choosing the right variety of potato), but even more seasoned chefs will find a surprising number of must-try recipes for original concoctions and vegan versions of old favorites.
There are also Korean recipes, vegan versions of Scandinavian cold fish and classic Jewish dishes.
Just as valuable are the numerous original essays written by activists, covering topics ranging from vegan parenting and Western nutrition to reducing waste, eating seasonally, growing-your-own, brewing-your-own, and cooking on a large scale.
Reviews:
"Highly recommended... this is a must for anyone looking to reduce their impact on the planet and the animal kingdom. A practical, potentially life changing gift." — Keith Mann, The Think Shop
"The best vegan cookbook there is." — Jon, Active Distribution
About the Authors:
Mike and Isy are cooks with Brighton's Anarchist Teapot mobile kitchen, a volunteer collective that cooks for activist and community gatherings and mobilisations across the UK and Europe.