---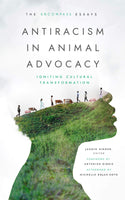 Edited by Jasmin Singer, with contributions by Aryenish Birdie and Michelle Rojas-Soto
Lantern Publishing and Media
09/21/2021, paperback
SKU: 9781590566480
Sixteen essays on the importance of racial equity in animal advocacy.
Antiracism in Animal Advocacy: Igniting Cultural Transformation is a collection of writings by farmed animal protection advocates who are committed to exploring and prioritizing racial equity as they work to create a more just animal protection movement. The essayists, whose work was originally published in Sentient Media, and is reprinted with their permission, were all attendees of Encompass's 2020 Racial Equity Institutes.
Essays include:
"From Speaking Up for Animals to Becoming an Antiracist," by Rachel Huff-Wagenborg
"Using Research and Data to Create an Inclusive Animal Rights Movement," by Brooke Haggerty
"How My Cultural Identity Informs My Animal Advocacy," by Unny Nambudiripad
"Animal Advocates: It's Time We Move from Performance to True Antiracism," by Aryenish Birdie
"Oppression without Hierarchy: Racial Justice and Animal Advocacy," by Michelle Rojas-Soto
"How Racism in Animal Advocacy and Effective Altruism Hinders Our Mission," by Michelle Graham
Reviews:
"An important, provocative and accessible book. It has an urgent message for us all." -- Congressman Jamie Raskin
"I dare you to read this book and tell me that racial justice isn't important in animal advocacy." -- Dolores Huerta, labor leader, women's rights, and civil rights activist, co-founder of the National Farmworkers Association, and recipient of the Presidential Medal of Freedom.
"Acknowledging racism is a problem in the animal advocacy movement is fundamental towards addressing the issue. This collection of essays provides an excellent springboard for white people and their entities to do antiracist work while strengthening the infrastructure of the animal advocacy community." -- Omowale Adewale, founder of Black VegFest and co-founder of Grassroots Artists MovEment.
"An honest and compelling set of reflections about why we need to build an antiracist animal advocacy movement--and what it will take for us to do it." -- Jeff Sebo, Clinical Associate Professor of Environmental Studies, Affiliated Professor of Bioethics, Medical Ethics, and Philosophy, and Director of the Animal Studies M.A. Program, New York University
About the Contributers:
Jasmin Singer (Editor) is the cofounder and cohost of Our Hen House, an award-winning media nonprofit that produces podcasts that aim to change the world for animals. She is the author of The VegNews Guide to Being a Fabulous Vegan and Always Too Much and Never Enough: A Memoir.
Aryenish Birdie is the founder and executive director of Encompass. In addition to her more than two decades in animal protection, Aryenish has worked in other social justice movements, including those striving for racial justice, queer liberation, and reproductive freedom.
Michelle Rojas-Soto previously served as managing director of Encompass, where she trained, coached, and consulted with animal protection leaders and organizations. Michelle is focused on creating equitable systems so that future generations on Earth thrive.