---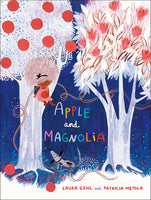 by Laura Gehl, Illustrated by Patricia Metola

Flyaway Books
2/8/2022
SKU: 9781947888357
The bond between two trees, Apple and Magnolia, takes center stage in this picture book that explores the power of unlikely friendships.
Britta visits her two favorite trees, Apple and Magnolia, every day. Though she can't explain it, she's sure they are best friends! Then one day, Magnolia's branches start to droop. Is there anything Britta--or Apple--can do to help? After all, unusual friendships can be the most powerful of all.
With a lyrical story and vibrant art, Apple and Magnolia unveils the extraordinary connections between trees and the wondrous bonds between all living things. The book includes an author's note offering facts about how trees communicate with one another.

Target age: 3 to 7
Reviews:
"Illustrator Patricia Metola brings a delightful crayon-like innocence to her sophisticated skill with color schemes, layout, and transmission of feelings... Apple and Magnolia stands out as a loving way to convey to three-to-seven year olds that unusual friendships have the power to see us through." -- Spirituality & Practice
"Emotive, whimsical illustrations reminiscent of children's drawings enliven this story about the power of friendship." -- Foreword Reviews

About the Contributors:

Laura Gehl is the author of nearly two dozen picture books, board books, and early readers. Her works have received many accolades and been included on numerous best-of-the-year lists. She lives in Chevy Chase, Maryland.
Patricia Metola has illustrated more than twenty books for children. Her work has been showcased by the Bologna Children's Book Fair on several occasions. She lives in Madrid, Spain.