---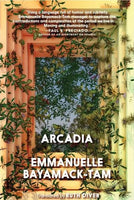 by Emmanuelle Bayamack-Tam, Translated by Ruth Diver
Seven Stories Press
5/5/2021, paperback
SKU: 9781644210536
An English-language debut that reveals and subverts contemporary conceptions of normative sexuality, capitalist culture, and environmental degradation.
Farah moves into Liberty House--an arcadia, a community in harmony with nature--at the tender age of six, with her family. The commune's spiritual leader, Arcady, preaches equality, non-violence, anti-speciesism, free love, and uninhibited desire for all, regardless of gender, age, looks, or ability. At fifteen, Farah learns she is intersex, and begins to go beyond the confines of gender, as she explores the arc of her own desires. What, Farah asks, is a man or a woman? What does it mean to be part of a community? What is utopia when there are refugees nearby seeking shelter who cannot enter?
Emmanuelle Bayamack-Tam delivers a magisterial novel, both a celebration and a critique of innocence in the contemporary world.
Reviews:
"So funny, full of joie de vivre, bursting with vitality and life. -- Lauren Groff, author of Arcadia
Subversive, funny, political, erudite, Emmanuelle Bayamack-Tam confirms with Arcadie that she is one of the most astonishing female novelists of our time.
-- Les Inrockuptibles
About the Author:
Emmanuelle Bayamack-Tam was born in 1966 in Marseille. She has published twelve novels and two plays with P.O.L Editeur, three, under the pseudonym Rebecca Lighieri. She is a founding member of the interdisciplinary association Autres et Pareils and co-director of Éditions Contre-Pied. Arcadia, her first book in translation, won the Prix du Livre Inter; was shortlisted for the Prix Femina, Prix Médicis, and Prix de Flore; and longlisted for the Prix France-Culture and Prix Wepler. She lives in Paris.
Ruth Diver has translated works by several of France's leading contemporary novelists, including The Little Girl on the Ice Floe by Adélaïde Bon, The Revolt by Clara Dupont-Monod, and A Respectable Occupation by Julia Kerninon. Her translation of Maraudes by Sophie Pujas won the 2016 Asymptote Close Approximations Fiction Prize.