---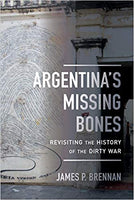 by James P. Brennan
University of California Press
3/23/18, paperback
SKU: 9780520297937
Revisiting the history of the dirty war examines the history of state terrorism during Argentina's 1976-83 military dictatorship in a single place: the industrial city of Câordoba, Argentina's second largest city and the site of some of the dirty war's greatest crimes. It examines the city's previous history of social protest, working-class militancy, and leftist activism as an explanation for the particular nature of the dirty war there. Argentina's missing bones examines both national and transnational influences on the counter-revolutionary war in Câordoba. The book also considers the legacy of this period and examines the role of the state in constructing a public memory of the violence and holding those responsible accountable through the most extensive trials for crimes against humanity to take place anywhere in Latin America
Reviews:
"Overall, Missing Bones is a fantastic book that asserts the importance of understanding Córdoba within the context of the history of Argentina's Dirty War"-- H-Net Reviews

"Brennan convincingly analyzes how remembering the Dirty War in Argentina is not only an individual or private matter but also encompasses an institutional memory fomented and fashioned by the policies of the Kirchner governments (96). By focusing on Córdoba, Brennan successfully captures the role of the state in constructing public memory of the Dirty War."-- Journal of Interdisciplinary History
About the Author:
James P. Brennan is Professor of History at the University of California, Riverside, where he teaches modern Latin American history.