---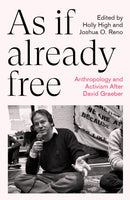 Edited by Holly High and Joshua O. Reno
Pluto Press
10/20/2023, paperback
SKU: 9780745348452
David Graeber (1961-2020) was an American anthropologist and anarchist activist, who left us with new ways to understand humankind. This collection of new writing brings together his insights into one book, showing how deeply his work continues to influence us today.
Graeber's writing resonates with scholars and activists looking to shake things up. The impact of his work is broad in scope, from birth to banking, and he picks open social hierarchy and political power to expose what really makes human society tick.
In today's neoliberal world, we can turn to his legacy to provide a way for us to understand what went wrong, and how to fix it. This collection of writings is both an introduction to his life and works, a guide to his key ideas, and an inspiring example of how people are continuing to use his work today.
Reviews:
"A fundamental contribution, containing precious insights into what made David Graeber the most innovative social thinker of our time, and why the legacy of his ideas will continue to inspire projects of emancipation, for generations to come." -- David Wengrow, Professor of Comparative Archaeology, University College London, and co-author of The Dawn of Everything: A New History of Humanity
"In this stimulating collection of 'slow cooked' essays, the editors reflect on the enduring enchantment of David Graeber's ideas. They remind us that there is always hope in today's troubled world and that the activist pursuit of hope can be fun as well as rewarding." -- Chris Gregory, Emeritus Professor of Anthropology, Australian National University
About the Editors:
Holly High is an Associate Professor at Deakin University, Australia. She has written two books, Fields of Desire and Projectland. 
Joshua O. Reno is a Professor at Binghamton University, US. A socio-cultural anthropologist, he is the author of Waste Away, Military Waste and co-author of Imagining the Heartland.