---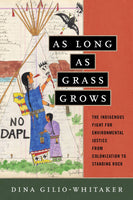 by Dina Gilio-Whitaker
Beacon Press
3/31/2020, paperback
SKU: 9780807028360
An important and accessible work recommended for students and scholars of political ecology from the undergraduate level up. Gilio-Whitaker's far-reaching work creates a compelling foundation upon which to add specific examples of the ongoing struggle for environmental justice and Indigenous rights during times of anthropogenic climate change. By connecting Native American history with the environmental justice movement in a clear and comprehensive manner, Gilio-Whitaker clarifies the depth of the wrong-doings of the past, while also opening the door to a wide range of opportunities for positive change in the future."

"A masterpiece and a vital road map for the ongoing fight for Indigenous sovereignty. With every heartbreaking example of sacred sites decimated and traditional knowledge suppressed, the power and resilience of Indigenous people, preserving not only their culture but their very lives, shines through. Powerful, urgent, and necessary reading." --Roxanne Dunbar-Ortiz, author of An Indigenous Peoples' History of the United States
"The process of genocide, which began five centuries ago with the colonization of the Americas and the extermination of indigenous people, has now spread to the planetary level, pushing two hundred species per day to extinction and threatening the entire human species. Dina Gilio-Whitaker's As Long as Grass Grows makes these connections, holding the seeds of resistance, the seeds of freedom, and the promise of a future."
About the Author:
Dina Gilio-Whitaker (Colville Confederated Tribes) is the policy director and a senior research associate at the Center for World Indigenous Studies and teaches American Indian Studies at California State University San Marcos. She is the coauthor, with Roxanne Dunbar-Ortiz, of "All the Real Indians Died Off" and 20 Other Myths About Native Americans. She lives in San Clemente, California.