---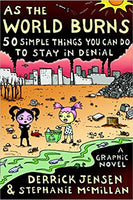 by Derrick Jensen and Stephanie McMillan
Seven Stories Press
11/6/2007, paperback
SKU: 9781583227770
Two of America's most talented activists team up to deliver a bold and hilarious satire of modern environmental policy in this fully illustrated graphic novel.
The U.S. government gives robot machines from space permission to eat the earth in exchange for bricks of gold. A one-eyed bunny rescues his friends from a corporate animal-testing laboratory. And two little girls figure out the secret to saving the world from both of its enemies (and it isn't by using energy-efficient light bulbs or biodiesel fuel). As the World Burns will inspire you to do whatever it takes to stop ecocide before it's too late.
Reviews:
"In As the World Burns the large scope and indictment of every facet of society is, to say the least, thought-provoking."- "Cleveland Free Times"
"Readers exasperated with, or just plain tired of, simplistic guides offering purportedly quick and easy ways to resolve global warming and other momentous concerns of the day will delight in this razor-sharp critique packaged as a cute-kid-and-funny-animal cartoon... Jensen and McMillan roll critical thinking and well-structured graphic-novel storytelling into a compelling whole."- "Booklist"
"A compelling message and an expressive artwork."- "The Sylvanian"
About the Author:
Activist, philosopher, teacher, and leading voice of uncompromising dissent, Derrick Jensen holds degrees in creative writing and mineral engineering physics. In 2008, he was named one of the Utne Reader's "50 Visionaries Who Are Changing Your World," and in 2006 he was named Press Action's Person of the Year for his work on the book Endgame. He lives in California.
Activist and artist Stephanie McMillan began syndicating her daring political cartoons in 1999. Since then her work has appeared in dozens of publications and has been exhibited in museums across the country. A book based on her comic strip, Minimum Security, was published in 2005.