---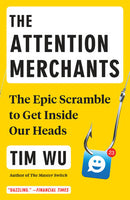 by Tim Wu
Vintage
9/19/2017, paperback
SKU: 9780804170048
Ours is often called an information economy, but at a moment when access to information is virtually unlimited, our attention has become the ultimate commodity. In nearly every moment of our waking lives, we face a barrage of efforts to harvest our attention. This condition is not simply the byproduct of recent technological innovations but the result of more than a century's growth and expansion in the industries that feed on human attention.
Wu's narrative begins in the nineteenth century, when Benjamin Day discovered he could get rich selling newspapers for a penny. Since then, every new medium--from radio to television to Internet companies such as Google and Facebook--has attained commercial viability and immense riches by turning itself into an advertising platform. Since the early days, the basic business model of "attention merchants" has never changed: free diversion in exchange for a moment of your time, sold in turn to the highest-bidding advertiser.
Full of lively, unexpected storytelling and piercing insight, The Attention Merchants lays bare the true nature of a ubiquitous reality we can no longer afford to accept at face value.
Reviews:
"An engaging history of the attention economy. . . . [Wu] wants to show us how our current conditions arose." --The Washington Post
"Engaging and informative. . . . [Wu's] account . . . is a must-read." --The Washington Times
About the Author:
Tim Wu is a policy advocate and professor at Columbia Law School. In 2006, Scientific American named him one of fifty leaders in science and technology; in 2013, National Law Journal included him among "America's 100 Most Influential Lawyers"; and in 2014 and 2015, he was named to the "Politico 50." He won the Lowell Thomas Gold medal for travel journalism and is a contributing opinion writer for The New York Times.