---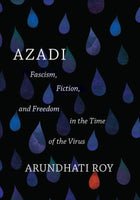 by Arundhati Roy
Haymarket Books
04/26/2022, paperback
SKU: 9781642597066
The chant of "Azadi!" -- Urdu for "Freedom!" -- is the slogan of the freedom struggle in Kashmir against what Kashmiris see as the Indian Occupation. Ironically, it also became the chant of millions on the streets of India against the project of Hindu Nationalism.
Even as Arundhati Roy began to ask what lay between these two calls for Freedom -- a chasm or a bridge? -- the streets fell silent. Not only in India, but all over the world. The coronavirus brought with it another, more terrible understanding of Azadi, making a nonsense of international borders, incarcerating whole populations, and bringing the modern world to a halt like nothing else ever could.
In this series of electrifying essays, Arundhati Roy challenges us to reflect on the meaning of freedom in a world of growing authoritarianism.
The essays include meditations on language, public as well as private, and on the role of fiction and alternative imaginations in these disturbing times.
The pandemic, she says, is a portal between one world and another. For all the illness and devastation it has left in its wake, it is an invitation to the human race, an opportunity, to imagine another world.

Reviews:
"No writer today, in India or anywhere in the world, writes with the kind of beautiful, piercing prose in defense of the wretched of the earth that Roy does... Roy the essayist embodies the legalistic but humanistic ruthlessness of a public defender, the wit and wordplay of a poet, a comrade who takes no injustice as a given." -- Jacobin
"Arundhati Roy's Azadi is a collection of essays and speeches describing India's recent descent into totalitarianism that speaks to the heart and the mind. Intelligent and thoughtful and written with empathy, it brings the reality of the situation home in way few other writers can." -- Intelligencer

About the Author:
Arundhati Roy studied architecture in New Delhi, where she now lives. She is the author of the novels The God of Small Things, for which she received the 1997 Booker Prize, The End of Imagination, Field Notes on Democracy, The Ministry of Utmost Happiness, and Capitalism: A Ghost Story. A collection of her essays from the past twenty years, My Seditious Heart, was recently published by Haymarket Books.