---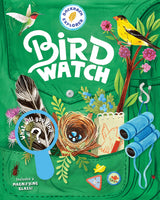 by the Editors of Storey Publishing
Storey Publishing
5/12/2020, hardcover
SKU: 9781635862515
Look up, down, and all around! Birds are in the air, on the ground, and everywhere in between. Learn all about them with this hands-on field guide
The third book in the Backpack Explorer series from the Editors of Storey Publishing invites budding naturalists to head outside for a walk -- in the woods, a park, or right in their backyard -- to spot feathered friends.
Backpack Explorer: Bird Watch leads kids aged 4 and up through the basics of birding, from identifying common birds to learning about habitat and migration and listening for bird songs. The pages are packed with prompts and activities, including 12 interactive field guides (for common birds, nests, eggs, tracks, and more), sensory scavenger hunts, activities such as building a bird nest, matching games, and simple discovery zone pages about food chains and the life cycle of birds.
Equipped with a real magnifying glass, stickers, and a birding log for recording sightings and encounters, this book is the perfect take-along for any nature adventure.
Target age: 4 to 8

Be sure to check out the other titles in the Backpack Explorer series!
About the Contributors:
Storey Publishing, located in North Adams, Massachusetts, specializes in books on natural health and wellness, farming, sustainability, food, gardening, crafts, nature, and children's activities.