---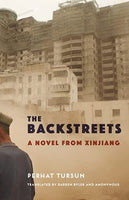 by Perhat Tursun, translated by Darren Byler
Columbia University Press
09/13/2022, paperback
SKU: 9780231202916
The Backstreets is an astonishing novel by a preeminent contemporary Uyghur author who was disappeared by the Chinese state. It follows an unnamed Uyghur man who comes to the impenetrable Chinese capital of Xinjiang after finding a temporary job in a government office. Seeking to escape the pain and poverty of the countryside, he finds only cold stares and rejection. He wanders the streets, accompanied by the bitter fog of winter pollution, reciting a monologue of numbers and odors, lust and loathing, memories and madness.
Perhat Tursun's novel is a work of untrammeled literary creativity. His evocative prose recalls a vast array of canonical world writers — contemporary Chinese authors such as Mo Yan; the modernist images and rhythms of Camus, Dostoevsky, and Kafka; the serious yet absurdist dissection of the logic of racism in Ellison's Invisible Man — while drawing deeply on Uyghur literary traditions and Sufi poetics and combining all these disparate influences into a style that is distinctly Perhat Tursun's own. The Backstreets is a stark fable about urban isolation and social violence, dehumanization and the racialization of ethnicity. Yet its protagonist's vivid recollections of maternal tenderness and first love reveal how memory and imagination offer profound forms of resilience. A translator's introduction situates the novel in the political atmosphere that led to the disappearance of both the author and his work.
Reviews:
"Close to a perfect work of art." -- The Atlantic
"The Backstreets is a politically charged, emotional novel about the impacts of prejudice, industrial city life, and desolation on China's Uyghur people. It is a major literary event that is honest in its portrayal of oppression." -- Foreword Reviews
"The Backstreets is an agonizing testimony to the anti-Uyghur policies and prejudices that led to [Tursun and the co-translator's] disappearances. It is also good writing of the sort that makes me feel like somebody has wrenched my head 90 degrees to the left: It's both clear and disorienting, an utterly new way of describing the world." -- NPR Books
About the Contributors:

Perhat Tursun is a leading Uyghur writer, poet, and social critic from the Xinjiang Uyghur Autonomous Region. He has published many short stories and poems as well as three novels, including the controversial 1999 novel The Art of Suicide, decried as anti-Islamic. In 2018, he was detained by the Chinese authorities and was reportedly given a sixteen-year prison sentence.

Darren Byler is assistant professor of international studies at Simon Fraser University and author of Terror Capitalism: Uyghur Dispossession and Masculinity in a Chinese City (2022). His anonymous cotranslator, who disappeared in 2017, is presumed to be in the reeducation camp system in northwest China.