---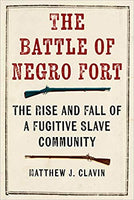 by Matthew Clavin
New York University Press
9/10/2019, hardcover
SKU: 9781479837335
In the aftermath of the War of 1812, Major General Andrew Jackson ordered a joint United States army-navy expedition into Spanish Florida to destroy a free and independent community of fugitive slaves. The result was the Battle of Negro Fort, a brutal conflict among hundreds of American troops, Indian warriors, and black rebels that culminated in the death or re-enslavement of nearly all of the fort's inhabitants. By eliminating this refuge for fugitive slaves, the United States government closed an escape valve that African Americans had utilized for generations. At the same time, it intensified the subjugation of southern Native Americans, including the Creeks, Choctaws, and Seminoles. Still, the battle was significant for another reason as well.
During its existence, Negro Fort was a powerful symbol of black freedom that subverted the racist foundations of an expanding American slave society. Its destruction reinforced the nation's growing commitment to slavery, while illuminating the extent to which ambivalence over the institution had disappeared since the nation's founding. Indeed, four decades after declaring that all men were created equal, the United States destroyed a fugitive slave community in a foreign territory for the first and only time in its history, which accelerated America's transformation into a white republic. The Battle of Negro Fort places the violent expansion of slavery where it belongs, at the center of the history of the early American republic. 
Reviews:
"Matthew Clavin's [work] offers an important discussion of an event that many know too little about. It is well-written, rich in primary sources, and adds substantially to our knowledge of early U.S. history and the role of pro-slavery forces in creating a "white man's republic."--Beverly C. Tomek, Author of Colonization and Its Discontents
"Matthew Clavin has uncovered a history of slavery and freedom that is revealing and, at times, haunting. The book is clearly and beautifully written, allowing scholars and casual readers to access and experience a narrative of struggle, of people escaping bondage and establishing a free community, only to have liberty cruelly extinguished. Clavin marshals an impressive array of American and European correspondence, diaries, and newspapers to offer a transnational perspective of slavery and the US government's commitment to preserve it. This brilliantly created volume presents a new story of freedom seekers in North America and advances pathways for fresh research."--Ronald Angelo Johnson, author of Diplomacy in Black and White: John Adams, Toussaint Louverture, and Their Atlantic World Alliance
Author:
Matthew J. Clavin, Professor of History at the University of Houston, is the author of Aiming for Pensacola and Toussaint Louverture and the American Civil War.