---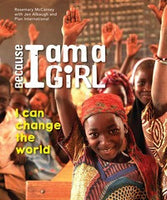 by Jen Albough, Rosemary McCarney
Second Story Press
2014
SKU: 9781927583449
Because when a girl is given her basic human rights she can lift herself - and everyone around her - out of poverty.


Meet some amazing girls. They are from all over the world and tell stories of their lives that are sometimes hard to imagine. They tell of the barriers and dangers that they, and millions of girls like them, face every day.
Despite the hardships, they have great hope for the future. All are willing to do whatever they can to make their lives and those of their families and communities better. 
Read about:
Lucy, an orphan in Zimbabwe, who struggles to find enough food for herself and her sister;
Kathryn, from South Sudan, who teaches the younger children in the refugee camp where she lives;
Farwa, who was destined to become a child bride in Pakistan;
Fahmeeda, a Youth Ambassador from Canada, who works to protect the rights of women and children around the world
And four more.
Proceeds from the sale of this book will be donated to Plan Canada's Because I am a Girl Fund.