---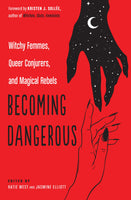 Edited Katie West and Jasmine Elliott
Weiser Books
4/1/2019, paperback
SKU: 9781578636709
At the crossroads of #MeToo, #HexthePatriarchy, and the increasingly vocal feminist and LGBTQ+ movements comes a highly readable and moving collection of writings
The difference between the witch and the layperson is that a witch already knows they are powerful. The layperson may only suspect. Becoming Dangerous is a collection of deeply personal essays by marginalized people operating at the intersection of feminism, witchcraft, and resistance about summoning power and becoming fearsome in a world that would prefer them to be afraid.
Written by artists, authors, columnists, comic book writers, fashionistas, performers, and video game designers, these essays are personal explorations about how and why rituals of resistance work for them. Their goal is to help readers summon their own power to resist, survive, and thrive.
With an introduction by Kristin J. Sollee, author of Witches, Sluts, Feminists.
Reviews:
"A fierce and voluble refutation of the patriarchy and its soul-crushing oppression of female power. These writers make clear that as witches, femmes, and queers, they will use their own strength, ingenious rituals, beauty routines, and spells to rise above and beyond the limits of racism/classism and objectifications set by a male-dominated society. While bound by a thread of magic, these are inspiring feminist writings for readers of feminist literature, however identified." --Library Journal
"This isn't a book on how to become a witch. Rather, it's a book about what it means to be a witch, written by women and femmes for whom the word witch is as much a part of their identity as their skin, their sexuality, and their gender. Ultimately, though, this is a book about magic, real, operant magic, the kind which changes reality. It's a book about where that magic comes from, and how queer women and femmes, women of color, and trans women have used it since the dawn of humanity to survive in a world which would just as soon have them enslaved or dead." -- Misha Magdalene, Patheos
"This essay collection describes the many ways that women, femmes, and nonbinary people find and create safe places as acts of resistance, beauty, and hope. Editors Katie West and Jasmine Elliott curated a magnificent collection that includes authors of many different backgrounds, abilities, identities, cultures, and beliefs. Becoming Dangerous debates with itself, answers its own questions, and provides a powerful look at how magic and intention can turn the tide of self-doubt and empower women, as it has for centuries, in both public and secret practices." - Foreword Reviews--Alison Nastasi
About the Editors:
Katie West is a writer, photographer, editor, director, and executive assistant. She was recently published in The Secret Loves of Geek (Dark Horse, edited by Hope Nicholson). She has published several volumes of a photographic magazine called Babefest that brings women together to create, share, and support one another. She also directed the music video for the Seven Saturdays single "Au Revoir," and she has a comic with Ray Fawkes in the upcoming anthology Haunted Tales of Gothic Love (Bedside Press, edited by Hope Nicholson).
Jasmine Elliott is a freelance editor and writer. She holds an MA in creative writing from the University of Windsor. She is a lapsed tarot reader and perpetually annoyed queer person currently based in Toronto. You can read her reviews of young adult literature at dictura.com.