---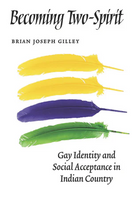 by Brian Joseph Gilley
University of Nebraska Press
10/1/2006, paperback
SKU: 9780803271265
The Two-Spirit man occupies a singular place in Native American culture, balancing the male and the female spirit even as he tries to blend gay and Native identity. The accompanying ambiguities of gender and culture come into vivid relief in the powerful and poignant Becoming Two-Spirit, the first book to take an in-depth look at contemporary American Indian gender diversity. Drawing on a wealth of observations from interviews, oral histories, and meetings and ceremonies, Brian Joseph Gilley provides an intimate view of how Two-Spirit men in Colorado and Oklahoma struggle to redefine themselves and their communities.
The Two-Spirit men who appear in Gilley's book speak frankly of homophobia within their communities, a persistent prejudice that is largely misunderstood or misrepresented by outsiders. Gilley gives detailed accounts of the ways in which these men modify gay and Native identity as a means of dealing with their alienation from tribal communities and families. With these compromises, he suggests, they construct an identity that challenges their alienation while at the same time situating themselves within contemporary notions of American Indian identity. He also shows how their creativity is reflected in the communities they build with one another, the development of their own social practices, and a national network of individuals linked in their search for self and social acceptance.
About the Author:
Brian Joseph Gilley is an associate professor of Anthropology at Indiana University, Bloomington.