---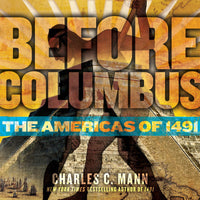 by Charles C. Mann
Atheneum Books for Young Readers
2009
SKU: 9781416949008
This study of Native American societies is adapted for younger readers from Charles C. Mann's best-selling 1491.
Turning conventional wisdom on its head, the book argues that the people of North and South America lived in enormous cities, raised pyramids hundreds of years before the Egyptians did, engineered corn, and farmed the rainforests.
Charles C. Mann is the author of 1491, which won the U.S. National Academy of Sciences' Keck award for the best book of the year. A correspondent for The Atlantic Monthly, Science, and Wired, he has covered the intersection of science, technology, and commerce for many newspapers and magazines here and abroad, including the New York Times, Vanity Fair, The Washington Post, and more. In addition to 1491, he was the co-author of four other non-fiction books. He is now working on a companion volume to 1491.