---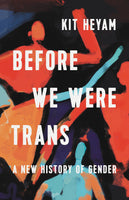 by Kit Heyam
Seal Press
09/13/2022, hardcover
SKU: 9781541603080
A groundbreaking global history of gender nonconformity 
Today's narratives about trans people tend to feature individuals with stable gender identities that fit neatly into the categories of male or female. Those stories, while important, fail to account for the complex realities of many trans people's lives.
Before We Were Trans illuminates the stories of people across the globe, from antiquity to the present, whose experiences of gender have defied binary categories. Blending historical analysis with sharp cultural criticism, trans historian and activist Kit Heyam offers a new, radically inclusive trans history, chronicling expressions of trans experience that are often overlooked, like gender-nonconforming fashion and wartime stage performance. Before We Were Trans transports us from Renaissance Venice to seventeenth-century Angola, from Edo Japan to early America, and looks to the past to uncover new horizons for possible trans futures. 
Reviews:
"Before We Were Trans provides much needed context, nuance, and breadth to our understanding of human gender diversity throughout history and in different cultures. While people who we might now call transgender or LGBTQIA+ have always existed, Kit Heyam shows how both individuals' and societies' understanding of sex, gender, and sexuality are situational, multifaceted, and constantly evolving." -- Julia Serano, author of Whipping Girl and Sexed Up

"Before We Were Trans enlarges our understanding of trans histories and highlights the beauty, complexity, and contradictions of doing historical work - all in a voice that invites the reader in, and not only teaches us what to think about trans lives in the past, but how to think about them." -- Hugh Ryan, author of The Women's House of Detention

"Before We Were Trans is a thoughtful, fun, and refreshingly readable romp through the history of gender variance before the invention of contemporary 'transgender' categories and concepts." -- Susan Stryker, author of Transgender History
About the Author:
Kit Heyam is a university lecturer, a queer history activist, and a trans awareness trainer who has worked with organizations across the United Kingdom. They live in Leeds, UK, with their partner Alex.