---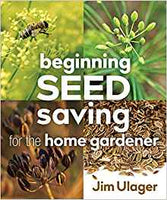 by Jim Ulager
New Society Publishers
9/24/2019, paperback
SKU: 9780865719262
Many home gardeners refuse to eat a grocery store tomato, but routinely buy commercial seeds, sometimes from thousands of miles away. And while seed saving can appear mysterious and intimidating, even home gardeners with limited time and space can experience the joy and independence it brings, freeing them from industry and the annual commercial seed order.
Beginning Seed Saving for the Home Gardener explores how seed saving is both easier than we think and essential for vibrant, independent, and bountiful gardens. Coverage includes:
Why seed saving belongs in the home garden
Principles of vegetative and sexual reproduction
Easy inbreeding plants, including legumes, lettuce, tomatoes, and peppers
Plants with a few more challenges, including squash, spinach, onions, and parsley
Brief discussion of more difficult crops, including corn, carrots, and cabbage.
Written by a home seed saver for the home seed saver, Beginning Seed Saving for the Home Gardener is a comprehensive guide for those who want to reclaim our seed heritage, highlighting the importance of saving seeds for you, your neighbors, and most importantly, subsequent generations.
Reviews:
"My garden checklist hasn't included "save seeds" for way too long. Why? I was waiting for someone to tackle the how and why of it in a way that made sense to me. For the first time in 30+ years, I'm finally ready to take gardening to a whole new level. Independence, here I come, James Ulager by my side."
-- MaryJane Butters, Idaho farmer, author, and editor of MaryJanesFarm magazine, now in its 19th year, and author of Wild Bread

" Beginning Seed Saving for the Home Gardener is a comprehensive guide to learn how to begin seed saving, or take it to the next level. Yet the book is written in a friendly style, as if the author is speaking to you as a friend. His humorous way of giving information makes it easier to understand."
-- Judy Newman, Administrator, Seeds of Diversity
"After years of watching Jim Ulager inspire and inform crowds of beginning seed savers at the Common Ground Fair, I'm delighted to see him put it into a book. Not that there aren't already a number of sources available, but this one stands out as accessible and de-mystifying. His target audience is the gardener and would-be seed saver who wishes to take it to the next level, but who may be daunted by the technical jargon of professionals. Ulager brings it down to the basics, with enough botanical detail to explain what you're doing without discouraging you. While the experts may say: if you can't do it this way, then don't even bother, Ulager says: go ahead and take back our ownership of the seed."
-- Will Bonsall, director, Scatterseed Project
Author:
Jim Ulager is a home gardener and seed saver who has traveled, studied, and spoken on seed saving for the small-scale gardener. Jim produces fruit, vegetables, tree products, chicken, pork, grain, and seeds on his 4-acre Vermont homestead with his wife and three children.