---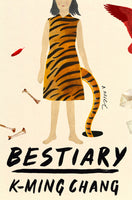 by K-Ming Chang
One World
6/1/2021, paperback

SKU: 9780593132593

Three generations of Taiwanese American women are haunted by the myths of their homeland in this spellbinding, visceral debut about one family's queer desires, violent impulses, and buried secrets.
LONGLISTED FOR THE CENTER FOR FICTION FIRST NOVEL PRIZE - "Epic and intimate at once, Bestiary brings myth to visceral life. K-Ming Chang's talent exposes what is hidden inside us. She makes magic on the page."--Julia Philips, author of Disappearing Earth
One evening, Mother tells Daughter a story about a tiger spirit who lived in a woman's body. She was called Hu Gu Po, and she hungered to eat children, especially their toes. Soon afterward, Daughter awakes with a tiger tail. And more mysterious events follow: Holes in the backyard spit up letters penned by her grandmother; a visiting aunt arrives with snakes in her belly; a brother tests the possibility of flight. All the while, Daughter is falling for Ben, a neighborhood girl with strange powers of her own. As the two young lovers translate the grandmother's letters, Daughter begins to understand that each woman in her family embodies a myth--and that she will have to bring her family's secrets to light in order to change their destiny.
With a poetic voice of crackling electricity, K-Ming Chang is an explosive young writer who combines the wit and fabulism of Helen Oyeyemi with the subversive storytelling of Maxine Hong Kingston. Tracing one family's history from Taiwan to America, from Arkansas to California, Bestiary is a novel of migration, queer lineages, and girlhood.
Reviews:
"Young queer love, family secrets, and a girl who grows a tiger tail, all told by a language obsessive? Extremely sold." --Lithub
"K-Ming Chang, an extremely talented young Taiwanese-American author, offers a wild portrait of three generations of women who have in them tigers, snakes, and birds: the myths of their homeland." --The Millions
"To read K-Ming Chang is to see the world in fresh, surreal technicolor. Hers is a dizzyingly imaginative, sharp-witted voice queering migration, adolescence, and questions of family and belonging in totally new and unexpected ways. Both wild and lyrical, visionary and touching. Read her!" --Sharlene Teo, author of Ponti
About the Author:
K-Ming Chang was born in the year of the tiger. She is a Kundiman Fellow and a Lambda Literary Award finalist in poetry. Her poems have been anthologized in Ink Knows No Borders, Best New Poets 2018, Bettering American Poetry Vol. 3, the 2019 Pushcart Prize Anthology, and elsewhere. Raised in California, she now lives in New York.