---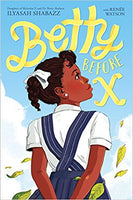 by Ilyasah Shabazz and Renée Watson
Farrar, Strauss, Giroux
1/2/2018, hardcover
SKU: 9780374306106
In Detroit, 1945, eleven-year-old Betty's house doesn't quite feel like home. She believes her mother loves her, but she can't shake the feeling that her mother doesn't want her. Church helps those worries fade, if only for a little while. The singing, the preaching, the speeches from guest activists like Paul Robeson and Thurgood Marshall stir African Americans in her community to stand up for their rights. Betty quickly finds confidence and purpose in volunteering for the Housewives League, an organization that supports black-owned businesses. Soon, the American civil rights icon we now know as Dr. Betty Shabazz is born.
Inspired by Betty's real life--but expanded upon and fictionalized through collaboration with novelist Renée Watson--Ilyasah Shabazz illuminates four poignant years in her mother's childhood with this book, painting an inspiring portrait of a girl overcoming the challenges of self-acceptance and belonging that will resonate with young readers today.
Target Age Group: 10-14
About the Authors:
Ilyasah Shabazz, third daughter of Malcolm X and Dr. Betty Shabazz, is an educator, activist, motivational speaker, and author of multiple award-winning publications, including X: A Novel, and the picture book, Malcolm Little. She is also an active advocacy worker and an adjunct professor at John Jay College of Criminal Justice in New York City.
Renée Watson grew up in Portland Oregon, came to New York for her degree in writing, and now teaches poetry in the New York City Schools. Her books include Betty Before X, Harlem's Little Blackbird: The Story of Florence Mills, A Place Where Hurricanes Happen, and What Momma Left Me which debuted as the New Voice for 2010 in middle grade fiction by The Independent Children's Booksellers Association.