---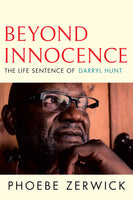 by Phoebe Zerwick
Atlantic Monthly Press
3/8/2022, hardcover
SKU: 9780802159373
A deeply reported, gripping narrative of injustice, exoneration, and the lifelong impact of incarceration, Beyond Innocence is the poignant saga of one remarkable life that sheds vitally important light on the failures of the American justice system at every level
In June 1985, a young Black man in Winston-Salem, N.C. named Darryl Hunt was falsely convicted and sentenced to life in prison for the rape and murder of a white copyeditor at the local paper. Many in the community believed him innocent and crusaded for his release even as subsequent trials and appeals reinforced his sentence. Finally, in 2003, the tireless efforts of his attorney combined with an award-winning series of articles by Phoebe Zerwick in the Winston-Salem Journal led to the DNA evidence that exonerated Hunt. Three years later, the acclaimed documentary, The Trials of Darryl Hunt, made him known across the country and brought his story to audiences around the world.
But Hunt's story was far from over. As Zerwick poignantly reveals, it is singularly significant in the annals of the miscarriage of justice and for the legacy Hunt ultimately bequeathed. Part true crime drama, part chronicle of a life cut short by systemic racism, Beyond Innocence powerfully illuminates the sustained catastrophe faced by an innocent person in prison and the civil death nearly everyone who has been incarcerated experiences attempting to restart their lives. Freed after nineteen years behind bars, Darryl Hunt became a national advocate for social justice, and his case inspired lasting reforms, among them a law that allows those on death row to appeal their sentence with evidence of racial bias. He was a beacon of hope for so many--until he could no longer bear the burden of what he had endured and took his own life.
Fluidly crafted by a master journalist, Beyond Innocence makes an urgent moral call for an American reckoning with the legacies of racism in the criminal justice system and the human toll of the carceral state.
Reviews:
"Beyond Innocence is a powerful story that underscores the many injustices in our judicial system and the huge challenge all ex-prisoners face regaining their lives." Albert Woodfox, author of Solitary
"A painstaking reexamination of a miscarriage of justice and the devastating aftermath . . . Zerwick uses sharp prose alongside Hunt's urgent journals to convey his thoughts and establish context . . . This moving, powerful book should lead to deeper research in that area. An engaging, heartbreaking read that cautions society and the justice system to handle exonerees with greater care." Kirkus Reviews (starred review)
"Journalist Zerwick debuts with a moving account of a North Carolina man's wrongful conviction and incarceration, eventual exoneration, and lingering post-prison trauma . . . Richly detailed and lucidly written, this is a harrowing story of racial injustice and the lingering traumas of wrongful imprisonment." Publishers Weekly
"Zerwick tracks Hunt's life as an exoneree and dedicated activist, whose advocacy helped lead to substantive reform for death row inmates until the burden of his trauma led tragically to his taking his own life. Zerwick's portrait of Hunt humanizes all who are incarcerated, opening out into a well-researched, frustrating, inspirational, and heartbreaking look at profound issues of equality and justice and how racism and injustice destroy lives." Booklist
"The book's reconstruction of Hunt's last days is a powerful reminder of incarceration's effects on the large numbers of Black Americans who have spent time behind bars. Zerwick's portrait of Hunt is a reminder of the trauma caused by the American justice system and offers an essential narrative of the lasting impacts of incarceration." Library Journal
"Phoebe Zerwick's Beyond Innocence: The Life Sentence of Darryl Hunt exerts a grip on the reader equal to any true crime nonfiction, but it speaks far beyond that. I knew Darryl Hunt and many in these pages who championed his cause and his causes. I saw Darryl regularly for ten of the 32 years covered by this amazing book. I celebrated his freedom from 19 years of unjust incarceration, his nobility of soul, and his achievements for criminal justice reform. I wept in 2016 when I heard what I believed to be his full sorrow. But Zerwick's masterful detective work, relentless research, brilliant storytelling, and, more than that, her insights into the dark night and fragile light of the human heart illuminate not only the essential facts but the deepest truths of this profound tragedy. Beyond Innocence is anything but gooey polemic. But sometimes a single human story cracks open our once familiar worlds in ways that we cannot forget, and compels us either to admit that vicious, intentional injustice speaks for us, or to speak for ourselves in a call to higher ground. This story is an opportunity to rethink our lives that we cannot afford to ignore." Timothy B. Tyson, bestselling author of The Blood of Emmett Till and Blood Done Sign My Name
"In Beyond Innocence, Phoebe Zerwick provides a gripping account of the life and death of Darryl Hunt, and in the process explains how the trauma endured by those wrongfully convicted is fundamentally at odds with a happily-ever-after ending. Zerwick's unflinching, intimate portrait of Hunt, exonerated but never truly free, leaves the reader with a story that is far more complicated and thought-provoking. This book will stay with you." Lara Bazelon, author of Rectify: The Power of Restorative Justice After Wrongful Conviction and professor, University of San Francisco School of Law
"Beyond Innocence is beautifully written and also shocking and disturbing. Phoebe Zerwick has crafted a moving story of one man's lifelong fight against racial injustice. She has also produced a lacerating indictment of a deeply flawed American justice system that systematically targets young black men." David Zucchino, Pulitzer Prize-winning author of Wilmington's Lie
About the Author:
Phoebe Zerwick is an award-winning investigative journalist, narrative writer, and college teacher. Her writing has appeared in O, The Oprah Magazine, National Geographic, The Nation, Winston-Salem Journal, and Glamour, among other publications. Her work has been recognized by The Nieman Foundation for Journalism at Harvard University, Investigative Reporters and Editors, the Society of Professional Journalists, Columbia University, and the North Carolina Press Association and featured in the HBO documentary The Trials of Darryl Hunt. She is the director of the journalism program at Wake Forest University.