---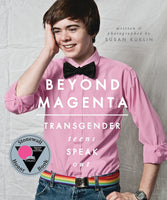 by Susan Kuklin
Candlewick Press
03/10/2015, paperback
SKU: 9780763673680

A groundbreaking work of LGBT literature takes an honest look at the life, love, and struggles of transgender teens.
Author and photographer Susan Kuklin met and interviewed six transgender or gender-neutral young adults and used her considerable skills to represent them thoughtfully and respectfully before, during, and after their personal acknowledgment of gender preference. Portraits, family photographs, and candid images grace the pages, augmenting the emotional and physical journey each youth has taken. Each honest discussion and disclosure, whether joyful or heartbreaking, is completely different from the other because of family dynamics, living situations, gender, and the transition these teens make in recognition of their true selves.
Target age: 14 and up
Reviews:
"Kuklin's book is not just a lifeline for teens who are going through something similar and need to see themselves and their lives so openly portrayed--this book is an important read for the parents, friends, and loved ones who want to understand what a transgender teen might be going through. This book is worth having on any shelf in any library and will not linger there long... A highly informative resource that is powerful, respectful, honest, and most importantly, long overdue." -- VOYA
"Readers [will] become immersed in these young adults' voices and experiences. The youth interviewed here do not uniformly share It Gets Better-style happy endings, but their strength is nonetheless inspirational as they face ongoing challenges with families, sexual and romantic relationships, bullies, schools, transitions, mental health, and more. The level of detail about their lives, and the diversity of their identities-including gender, sexuality, ethnicity, religion, and geography-provide a powerful antidote to the isolation and stigma that some transgender youth experience... There is much here that will resonate with and hearten the kids who need it and will foster understanding and support among those who live and work with transgender teens." -- School Library Journal
About the Author:
Susan Kuklin is the award-winning author and photographer of more than thirty books for children and young adults that span social issues and culture. Her photographs have appeared in Time, Newsweek, and the New York Times. Susan Kuklin lives in New York City.