---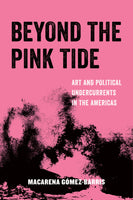 by Macarena Gomez-Barris
University of California Press
8/28/2018, paperback
SKU: 9780520296671
How can we create a model of politics that reaches beyond the nation-state, and beyond settler-colonialism, authoritarianism, and neoliberalism? In Beyond the Pink Tide, Macarena Gómez-Barris explores the alternatives of recent sonic, artistic, activist, visual, and embodied cultural production. By focusing on radical spaces of potential, including queer, youth, trans-feminist, Indigenous, and anticapitalist movements and artistic praxis, Gómez-Barris offers a timely call for a decolonial, transnational American Studies. She reveals the broad possibilities that emerge by refusing national borders in the Americas and by seeing and thinking beyond the frame of state-centered politics. Concrete social justice and transformation begin at the level of artistic, affective, and submerged political imaginaries--in Latin America and the United States, across South-South solidarities, and beyond.
Number 7 in the University of California Press series American Studies Now: Critical Histories of the Present.
Reviews:
"In amplifying the submerged undercurrents and inhabiting the radical spaces of queer, youth, and Indigenous resistances in Latin America and the Caribbean, Macarena Gómez-Barris enunciates a timely call for transnational Americas studies beyond the violence of bordered nation-states. Dynamically rich and interdisciplinary, Beyond the Pink Tide examines the artistic, sonic, and spatial practices that shape South-South affinities and social activisms. It shows us that alternatives to the exhausted and exhausting limitations of liberal democracy are possible. In fact, they are already here." -- Jodi A. Byrd, author of The Transit of Empire: Indigenous Critiques of Colonialism

"Beyond the lenses of dictatorships, revolutions, nation-states, beyond area studies and contained geographies, Macarena Gómez-Barris argues for submerged politics, flows of knowledge, and archipelagic understandings of the present. Deconstructing the Pink Tide's imbrication in extractivism, debt, and social normativity, she turns to contemporary forms of artistic activism that imagine other worlds." -- Licia Fiol-Matta, author of The Great Woman Singer: Gender and Voice in Puerto Rican Music

"With laser-sharp writing, Macarena Gómez-Barris provides a luminous and penetrating analysis of recent artistic and activist efforts across the Americas, with an emphasis on political music, film, performance, and visual art. Beyond the Pink Tide is a timely and compelling book that should be read by anyone seeking critical hope around questions of queer justice, feminist justice, anticapitalist justice, and Indigenous justice." -- Julia Bryan-Wilson, Professor of Modern and Contemporary Art, University of California, Berkeley
About the Author:
Macarena Gómez-Barris is Chairperson of Social Science and Cultural Studies at Pratt Institute, Director of the Global South Center, and author of Where Memory Dwells: Culture and State Violence in Chile and The Extractive Zone: Social Ecologies and Decolonial Perspectives.