---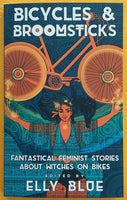 Edited by Elly Blue
Elly Blue Publishing
1/10/2023, paperback
SKU: 9781648411311

A coven races—literally—to fight off the magic smog that threatens their city. A janitor at the last rocket launch site on a dying planet sends the rocket up with a special spell of comfort. Instead of casting the resiliency spell she asked for, a girl's grandmother teaches her to ride a bike. A midwife's bicycle is stolen, resulting in a fitting comeuppance. An urban witch falls for a bicycle mechanic and learns to reconcile her double life. Smash the petropatriarchy and enjoy these and more science fiction and fantasy stories in the pages of the supernatural 9th volume of the popular Bikes in Space series. 
Featuring ten incredible stories by Hester Dade, M. Lopes da Silva, Monique Cuillerier, A. P. Howell, Ether Nepenthes, M. A. Blanchard, Kathleen Jowitt, G. J. Craddock, Gretchin Lair, and Emily Burton.
About the Editor:
Elly Blue is a writer and bicycle activist living in Portland, Oregon. Her work has appeared in The Guardian, Grist, Bicycling Magazine online, Bitch Magazine, BikePortland, The Magazine, and Momentum, among other publications. She has been featured on Democracy Now!, in the Oregonian, and on Oregon Public Broadcasting.