---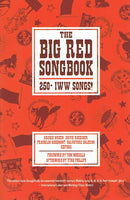 Edited by Archie Green, David Roediger, Franklin Rosemont, and Salvatore Salerno
PM Press
5/1/2016, paperback
SKU: 9781629631295
In 1905, representatives from dozens of radical labor groups came together in Chicago to form One Big Union--the Industrial Workers of the World (IWW), known as the Wobblies. The union was a big presence in the labor movement and everywhere its members went, they sang.
In The Big Red Songbook, the editors have gathered songs, rare artwork, personal recollections, discographies, and more into one big all-embracing book. In addition to the 250+ songs, writings are included from Archie Green, Franklin Rosemont, David Roediger, Salvatore Salerno, Judy Branfman, Richard Brazier, James Connell, Carlos Cortez, Bill Friedland, Virginia Martin, Harry McClintock, Fred Thompson, Adam Machado, and many more.
Originally published 2007 by Charles H. Kerr Publishing Company.
Reviews:
"This collection, the last major work both of the late 'laborlorist' Archie Green and of the late surrealist poet and labor publisher Franklin Rosemont, should be of great value to folklorists, activists, and singers alike." -- Journal of American Folklore
"In The Big Red Songbook, the editors have thoughtfully documented twentieth-century Wobbly song in all of its foot-stompin' glory." --International Labor and Working-Class History
"This engaging anthology features the lyrics to 250 or so Wobbly songs, rich with references to job sharks, shovel stiffs, capitalist tools, and plutocratic parasites. Wobbly wordsmiths such as the fabled Joe Hill, T-Bone Slim, Haywire Mac, and Richard Brazier set their fighting words to popular tunes of the day, gospel hymns, old ballads and patriotic anthems." --San Francisco Chronicle
About the Contributors:
Archie Green was an American folklorist specializing in laborlore (defined as the special folklore of workers) and American folk music.
Tom Morello is an original member of the rock bands Rage Against the Machine and Audioslave.
Utah Phillips was a labor organizer, folk singer, storyteller, poet, and the "Golden Voice of the Great Southwest."
David Roediger is Kendrick Babcock Chair of History at the University of Illinois.
Franklin Rosemont was an editor of many works and with Penelope Rosemont helmed the venerable radical publishing house the Charles H. Kerr Co.
Salvatore Salerno is an author and a professor on the Community Faculty staff of Metropolitan State University in St. Paul, Minnesota.