---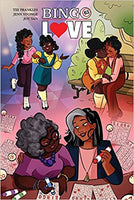 by Tee Franklin, Illustrated by Jenn St. Onge, Joy San, and Genevieve Ft.
Image Comics
2/20/2018, paperback
SKU: 9781534307506
When Hazel Johnson and Mari McCray met at church bingo in 1963, it was love at first sight. Forced apart by their families and society, Hazel and Mari both married young men and had families. Decades later, now in their mid-'60s, Hazel and Mari reunite again at a church bingo hall. Realizing their love for each other is still alive, what these grandmothers do next takes absolute strength and courage.
From TEE FRANKLIN (NAILBITER's "THE OUTFIT," Love is Love) and JENN ST-ONGE (Jem & the Misfits), BINGO LOVE is a touching story of love, family, and resiliency that spans over 60 years.
Reviews:
"With so many romance tales revolving around star-crossed youngsters, it's pretty refreshing to see a book that takes such an all-encompassing view of a relationship and acknowledges the difficulties people face in coming out at an older age. Based on the early buzz, we expect Bingo Love will be a major contender for best graphic novel of the year." - IGN
" Bingo Love is a phenomenal comic featuring two strong queer, women of color falling in love as teens and rekindling that love as older adults. This fresh take on a second chance at love is so very welcome and necessary, with a hard-hitting storyline that asks important questions about sexuality, societal demands, and living on your own terms. When Hazel and Mari see the same patterns of judgment and anger emerging yet again from a new generation of family, each must decide what is important and whether their love-or any love-should be picked apart and questioned by those on the outside. Told through playful and boldly colored artwork, this is a story full of determination, courage, and passion that runs from youth to adulthood and beyond." - Teen Vogue