---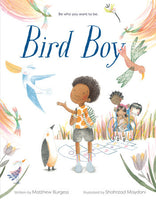 by Matthew Burgess, Illustrated by Shahrzad Maydani
Alfred A. Knopf
7/20/2021, hardcover
SKU: 9781984893772
Take flight in this heartwarming story about a boy who learns to be true to himself at school while following his love of nature.
Nico was new, and nervous about going to school. Everyone knew what to do and where to go, but Nico felt a little lost. So, he did what he loved to do:
Watched the insects
Sat in the grass
And most importantly... befriended the birds.
Before he knew it, Nico was known as BIRD BOY. But Nico didn't mind. Soon, he made one friend, then two, as the other kids learned to appreciate Nico for who he was. Before long, Nico learned he could be completely, delighfully, himself. This dreamy story will encourage all readers to express who they are unapologetically.
Target age: 4 to 8
Reviews:

"Nico's vulnerability and his calm self-confidence are a heady, relatable, contradictory combination of qualities that we all possess but don't often recognize. This is a powerful and effective message, and readers are in for a treat." -- Booklist, starred review
About the Contributors:
Matthew Burgess is the author of Enormous Smallness: A Story of E. E. Cummings, illustrated by Kris Di Giacomo, and The Unbudgeable Curmudgeon, illustrated by Fiona Woodcock. He has been a poet-in-residence in New York City elementary schools through the Teachers & Writers Collaborative since 2001, and he is currently completing his PhD at the CUNY Graduate Center. His work has appeared in various magazines and journals, and he recently received an award from the Fund for Poetry. He teaches creative writing and composition at Brooklyn College and lives in Brooklyn, New York.

Shahrzad Maydani is an illustrator and storyteller living and working in Berkeley, CA. She was raised in Africa by an Iranian mother and English father and spent her childhood collecting and telling stories. She now spends her days frantically making up worlds to keep her toddler happy.