---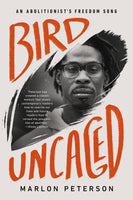 by Marlon Peterson
Bold Type Books
12/6/2022, paperback
SKU: 9781645036524
From a leading prison abolitionist, a moving memoir about coming of age in Brooklyn and surviving incarceration--and a call to break free from all the cages that confine us.
Marlon Peterson grew up in 1980s Crown Heights, raised by Trinidadian immigrants. Amid the routine violence that shaped his neighborhood, Marlon became a high-achieving and devout child, the specter of the American dream opening up before him. But in the aftermath of immense trauma, he participated in a robbery that resulted in two murders. At nineteen, Peterson was charged and later convicted. He served ten long years in prison. While incarcerated, Peterson immersed himself in anti-violence activism, education, and prison abolition work.
In Bird Uncaged, Peterson challenges the typical "redemption" narrative and our assumptions about justice. With vulnerability and insight, he uncovers the many cages--from the daily violence and trauma of poverty, to policing, to enforced masculinity, and the brutality of incarceration--created and maintained by American society.
Bird Uncaged is a twenty-first-century abolitionist memoir, and a powerful debut that demands a shift from punishment to healing, an end to prisons, and a new vision of justice.
Reviews:
"Marlon Peterson lyrically and powerfully narrates his own experience with the injustices of American prisons, from the cruelty of incarceration to the cages of masculinity. Bird Uncaged is a freedom dream, and important reading for anyone thinking deeply about our carceral systems." -- Ibram X. Kendi, National Book Award-winning author of Stamped from the Beginning and How to Be an Antiracist

"Marlon Peterson's memoir tells the intimate story of how the twin forces of patriarchy and white supremacy have combined to build a life of cages for generations of Black men in America. Marlon's work--a narrative of men who have suffered under, been complicit in, and then attempted to upend their involvement in patriarchal systems--is just the kind of book we need to build toward a liberated future for all Black people in America." -- Kimberlé Crenshaw, Legal Scholar, editor of Critical Race Theory and author of On Intersectionality
" Bird Uncaged is heart-wrenching without being sentimental. It's beautiful without ever being flowery. It's one voice without ever being just one thing. It's all honest without ever pretending to be complete. I hope you love it. It deserves to be a thing you love." -- Danielle Sered, Author of Until We Reckon: Violence, Mass Incarceration, and A Road to Repair

"Marlon Peterson's gift is one of immense heart. He carries with him a deep love for humanity, an unwavering faith that we can overcome our challenges, and the righteous spirit of a man committed to being an example of how it's all done. He has been tested throughout his life -- he has had his freedom taken away from him in the most real sense. That has provided Marlon with the kind of perspective often missing from conversations of justice and violence and transformation and healing. Marlon is a healer. His work provides a space for all of us to convene under his wisdom to consider new ways of being in community with one another that honors that we are flawed but respects us enough to believe we are not limited by those flaws. He is nothing short of an inspiration." -- Mychal Denzel Smith, author of Stakes Is High
About the Author:
Marlon Peterson is the principal of The Precedential Group, a social justice consulting firm. He is host of the Decarcerated Podcast, a Senior Atlantic Fellow for Racial Equity, a member of the Aspen Global Leadership Network, and a 2015 recipient of the Soros Justice Fellowship. Ebony Magazine has named him one of America's 100 most influential and inspiring leaders in the Black community. His TED Talk, "Am I not human? a call for criminal justice reform," has over 1.2 million views. He contributed to Kiese Laymon's How to Slowly Kill Yourself and Others in America and Akiba Solomon and Kenrya Rankin's How We Fight White Supremacy. His writing has appeared in Ebony, The Nation, USA Today, Colorlines, and more. A graduate of New York University, he lives in Brooklyn and plays the steelpan during the summer.