---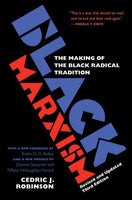 by Cedric J. Robinson
University of North Carolina Press
2/1/2021, paperback
SKU: 9781469663722
In this ambitious work, first published in 1983, Cedric Robinson demonstrates that efforts to understand Black people's history of resistance solely through the prism of Marxist theory are incomplete and inaccurate. Marxist analyses tend to presuppose European models of history and experience that downplay the significance of Black people and Black communities as agents of change and resistance. Black radicalism, Robinson argues, must be linked to the traditions of Africa and the unique experiences of Blacks on Western continents, and any analyses of African American history need to acknowledge this.

To illustrate his argument, Robinson traces the emergence of Marxist ideology in Europe, the resistance by Blacks in historically oppressive environments, and the influence of both of these traditions on such important twentieth-century Black radical thinkers as W. E. B. Du Bois, C. L. R. James, and Richard Wright.
This revised and updated third edition includes a new preface by Tiffany Willoughby-Herard, and a new foreword by Robin D. G. Kelley.
Reviews:
"As Cedric Robinson's ideas guide us through an era when we are publicly reevaluating the structural racism embedded in all of our major institutions, we rely above all on his concept of racial capitalism and on his identification of an intellectual and activist culture of resistance--one he named the Black Radical Tradition. This is a text that should be read and reread and then read again." --Angela Y. Davis
"A towering achievement. There is simply nothing like it in the history of black radical thought." --Cornel West, Monthly Review
About the Author:
Cedric J. Robinson (1940-2016) was professor of Black studies and political science at the University of California, Santa Barbara. His books include The Terms of Order, An Anthropology of Marxism, and Forgeries of Memory and Meaning.