---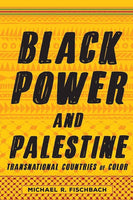 by Michael R. Fischbach
Stanford University Press
11/202/2018, paperback
SKU: 9781503607385
The 1967 Arab-Israeli War rocketed the question of Israel and Palestine onto the front pages of American newspapers. Black Power activists saw Palestinians as a kindred people of color, waging the same struggle for freedom and justice as themselves. Soon concerns over the Arab-Israeli conflict spread across mainstream black politics and into the heart of the civil rights movement itself. Black Power and Palestine uncovers why so many African Americans--notably Martin Luther King, Jr., Malcolm X, and Muhammad Ali, among others--came to support the Palestinians or felt the need to respond to those who did.
Americans first heard pro-Palestinian sentiments in public through the black freedom struggle of the 1960s and 1970s. Michael R. Fischbach uncovers this hidden history of the Arab-Israeli conflict's role in African American activism and the ways that distant struggle shaped the domestic fight for racial equality. Black Power's transnational connections between African Americans and Palestinians deeply affected U.S. black politics, animating black visions of identity well into the late 1970s. Black Power and Palestine allows those black voices to be heard again today.
In chronicling this story, Fischbach reveals much about how American peoples of color create political strategies, a sense of self, and a place within U.S. and global communities. The shadow cast by events of the 1960s and 1970s continues to affect the United States in deep, structural ways. This is the first book to explore how conflict in the Middle East shaped the American civil rights movement.
Reviews:
"Fischbach's book makes two major contributions to the field of of Black-Palestinian solidarity: first, a nuanced understanding of politics and second, an insistence on the significance of the historical moment. Resonances with today's headlines fill the book.Fischbach's historically driven narrative stands at the cutting edge of scholarship on the Black Power movement." -- Elizabeth Bishop, Journal of Palestine Studies
"Black Power and Palestine makes a crucial intervention by excavating a rather forgotten history that undermines any notion of a timeless American consensus over U.S. Middle East policy and proposes a genealogy of the opposition to the occupation of the Palestinian territories and the treatment of Palestinians there and in the diaspora." -- Oz Frankel, American Historical Review
About the Author:
Michael R. Fischbach is Professor of History at Randolph-Macon College. The author of four previous books, he was awarded grants by The MacArthur Foundation and the United States Institute of Peace. He has presented at numerous academic and diplomatic settings in sixteen countries on four continents.