---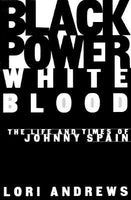 by Lori Andrews
Temple University Press
1999
SKU: 9781566397502
Originally published in hardcover to much acclaim, this vividly written biographical drama will now be available in a paperback edition and includes a new epilogue by the author. Conceived within a clandestine relationship between a black man and a married white woman, Spain was born (as Larry Michael Armstrong) in Mississippi during the mid-1950s. Spain's life story speaks to the destructive power of racial bias. Even if his mother's husband were willing to accept the boy, which he was not, a mixed-race child inevitably would come to harm in that place and time.
At six years old, already the target of name-calling children and threatening adults, he could not attend school with his older brother. Only decades later would he be told why the Armstrongs sent him to live with a black family in Los Angeles. As Johnny came of age, he thought of himself as having been rejected by his white family as well as by his black peers. His erratic, destructive behavior put him on a collision course with the penal system; he was only seventeen when convicted of murder and sent to Soledad.
Drawn into the black power movement and the Black Panther Party by a fellow inmate, the charismatic George Jackson, Spain became a dynamic force for uniting prisoners once divided by racial hatred. He committed himself to the cause of prisoners' rights, impressing inmates, prison officials, and politicians with his intelligence and passion. Nevertheless, among the San Quentin Six, only he was convicted of conspiracy after Jackson's failed escape attempt.
Lori Andrews, a professor of law, vividly portrays the dehumanizing conditions in the prisons, the pervasive abuses in the criminal justice system, and the case for overturning Spain's conspiracy conviction. Spain's personal transformation is the heart of the book, but Andrews frames it within an indictment of intolerance and injustice that gives this individual's story broad significance.