---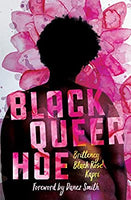 by Britteney Black Rose Kapri
Haymarket Books
9/4/2018, paperback
SKU: 9781608469529
Black Queer Hoe is a refreshing, unapologetic intervention into ongoing conversations about the line between sexual freedom and sexual exploitation.
Women's sexuality is often used as a weapon against them. In this powerful debut, Britteney Black Rose Kapri lends her unmistakable voice to fraught questions of identity, sexuality, reclamation, and power, in a world that refuses Black Queer women permission to define their own lives and boundaries.
Reviews:
"This brazen debut is good medicine and a needed shout in the world. Black Queer Hoe makes it clear Britteney Black Rose Kapri is a poet we must pay attention to, taking up the reigns of many spoken word and literary ancestors and charging forward into poetics unafraid to be ratchet and bare."--Danez Smith, author of Don't Call Us Dead
"Britteney Kapri is a stunningly talented writer whose words reach out from the page and grab you around the throat one minute while pulling you into a hug in the next. This book is incredible." --Samantha Irby, author of Meaty
About the Author:
Britteney Black Rose Kapri is a Chicago performance poet and playwright. Currently she is an alumna turned Teaching Artist Fellow at Young Chicago Authors. She is also contributer for Black Nerd Problems and Pink Door Retreat Fellow. She is a 2015 Rona Jaffe Writers Award Recipient.