---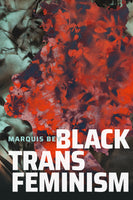 by Marquis Bey
Duke University Press
2/25/2022, paperback
SKU: 9781478017813
In Black Trans Feminism Marquis Bey offers a meditation on blackness and gender nonnormativity in ways that recalibrate traditional understandings of each.
Theorizing black trans feminism from the vantages of abolition and gender radicality, Bey articulates blackness as a mutiny against racializing categorizations; transness as a nonpredetermined, wayward, and deregulated movement that works toward gender's destruction; and black feminism as an epistemological method to fracture hegemonic modes of racialized gender.
In readings of the essays, interviews, and poems of Alexis Pauline Gumbs, jayy dodd, Venus Di'Khadija Selenite, and Dane Figueroa Edidi, Bey turns black trans feminism away from a politics of gendered embodiment and toward a conception of it as a politics grounded in fugitivity and the subversion of power. Together, blackness and transness actualize themselves as on the run from gender. In this way, Bey presents black trans feminism as a mode of enacting the wholesale dismantling of the world we have been given.
Reviews:
"In its deep engagements with the three movements of its title, Black Trans Feminism is a very exciting book to read, digest, and think through. Marquis Bey's focus on fugitivity and the elastic category of the fugitive stealing themself back is a highly salient and timely conceptual offering, and I'm astonished by the clarity, precision, and deep-digging that Bey brings to the material. Those working at the interstices of Black trans feminism need this gift of manifest lucidity to reference, teach, and expound on."--Eliza Steinbock, author of Shimmering Images: Trans Cinema, Embodiment, and the Aesthetics of Change
"In Marquis Bey's deeply creative and fiercely imaginative book, Black trans feminism describes a kind of worldly inhabitation and a radical form of theorizing power and refusal in ways that are not contingent on identity. In Bey's hands, Black trans feminism becomes a powerful call for vulnerability, fugitive hope, abolition, and freedom. Black Trans Feminism allows us to gesture to all that we want from this world but do not yet know how to name."--Jennifer C. Nash, author of Birthing Black Mothers
About the Author:
Marquis Bey is Assistant Professor of African American Studies and English at Northwestern University and author of The Problem of the Negro as a Problem for Gender, Anarcho-Blackness: Notes toward a Black Anarchism, and Them Goon Rules: Fugitive Essays on Radical Black Feminism.