---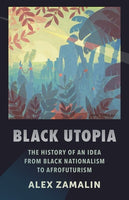 by Alex Zamalin
Columbia University Press
8/20/2019, paperback
SKU: 9780231187411
Within the history of African American struggle against racist oppression that often verges on dystopia, a hidden tradition has depicted a transfigured world. Daring to speculate on a future beyond white supremacy, black utopian artists and thinkers offer powerful visions of ways of being that are built on radical concepts of justice and freedom. They imagine a new black citizen who would inhabit a world that soars above all existing notions of the possible.
In Black Utopia, Alex Zamalin offers a groundbreaking examination of African American visions of social transformation and their counterutopian counterparts. Considering figures associated with racial separatism, postracialism, anticolonialism, Pan-Africanism, and Afrofuturism, he argues that the black utopian tradition continues to challenge American political thought and culture.
Black Utopia spans black nationalist visions of an ideal Africa, the fiction of W. E. B. Du Bois, and Sun Ra's cosmic mythology of alien abduction. Zamalin casts Samuel R. Delany and Octavia E. Butler as political theorists and reflects on the antiutopian challenges of George S. Schuyler and Richard Wright. Their thought proves that utopianism, rather than being politically immature or dangerous, can invigorate political imagination. Both an inspiring intellectual history and a critique of present power relations, this book suggests that, with democracy under siege across the globe, the black utopian tradition may be our best hope for combating injustice.
Reviews:
"Crisply written and compellingly argued, Black Utopia traces a remarkable genealogy of black utopian and anti-utopian thought from Martin Delany in the early nineteenth century to Octavia Butler in the early twenty-first. A versatile cultural historian and political theorist, Alex Zamalin reveals that the democratic hope for racial equality and social justice has historically overcome dystopian conditions, ranging from slavery to present-day racism, while animating the African American intellectual imagination." --Gene Andrew Jarrett, author of Representing the Race: A New Political History of African American Literature
"Covering considerable ground with unusual eloquence and depth, Alex Zamalin brilliantly elucidates the contours of a black utopian tradition that poses a forceful challenge to our contemporary modes of political theorizing. Like the utopias and dystopias it delineates, Black Utopia both inspires and unsettles the reader in critically productive ways. This is first-rate scholarship." --Simon Stow, John Marshall Professor of Government and American Studies, College of William and Mary
About the Author:
Alex Zamalin is assistant professor of political science and director of the African American Studies Program at University of Detroit Mercy. He is the author of African American Political Thought and American Culture: The Nation's Struggle for Racial Justice (2015); Struggle on Their Minds: The Political Thought of African American Resistance (Columbia, 2017); and Antiracism: An Introduction (2019).