---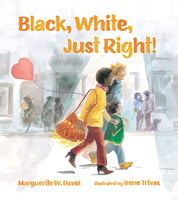 by Marguerite W. Davol, Illustrated by Irene Trivas
Albert Whitman & Company
9/1/2019, paperback
SKU: 9780807507889
This simple story celebrates how the differences between one mother and father blend to make the perfect combination in their daughter. As this little family moves through the world, the girl notes some of the ways that her parents are different from each other, and how she is different from both of them. With each difference she lists, she highlights the ways that their individual characteristics join together to make her family. The fact that her mother is African American and her father is white is just one of the many interesting things that make this little girl and her family "just right."
Reviews:
"Biracial readers may identify with the specific examples given, while all young children can relate to inheriting characteristics from their parents. The text varies from prose to a rhyme that can be followed; throughout both, the refrain 'just right' consistently rings."--The Horn Book Guide
"The book's upbeat tone is welcoming and refreshing. By moving beyond physical differences, Davol successfully shows how families are composed of distinct individuals whose love is the key to securing a child's sense of self."--Publishers Weekly
About the Contibutors:
Marguerite W. Davol taught young children for many years at the Gorse Child Study Center at Mount Holyoke College. She wrote numerous titles including Heart of the Wood, How Snake Got His Hiss, and Papa Alonzo Leatherby.
Irene Trivas illustrated more than 100 books for children and worked in the music industry and in advertising.