---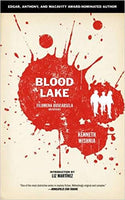 by Kenneth Wishnia
PM Press
8/1/2014, paperback
SKU: 9781604864304
When New York City private investigator Filomena Buscarsela takes her teenaged daughter, Antonia, to see their extended family in Ecuador, it's more than a homecoming. Filomena hasn't been back in years, and the trip brings back memories of her previous life as a revolutionary. Before she's even had time to adjust to her new surroundings, though, a priest is murdered--a man who, years ago, saved her life and helped her escape to the United States. Filomena owed him her life, and she vows to find his killer. It's an election year, and the dirty hands of politics seem to be everywhere, perhaps even in this senseless death. Filomena's investigation promises to lead her back to the very people she escaped all those years ago. As the country is wracked by natural and manmade disasters--landslides, floods, food shortages, protests, crackdowns--Filomena becomes a fugitive from the law, racing across the country toward a climactic confrontation in the Amazon jungle. This final installment in Kenneth Wishnia's acclaimed series is rich with the sights, sounds--and dangers--of Ecuador, and offers a compelling look at the provenance of one dynamic heroine.
Reviews:
"Wishnia's brand of gritty surrealism jolts the reader with startling images and jarring contrasts. [He] evokes a country and a culture vividly and unforgettably." -- Publishers Weekly
"Successfully serves up exotic atmosphere, complex family relations, social unrest, and dazzling characterization." -- Booklist
About the Author:
Kenneth Wishnia is an associate professor of English at Suffolk Community College and the author of the Filomena Buscarsela Mystery series--the first of which was nominated for both the Edgar and the Anthony Awards, and made the Booklist "Best First Mystery" list--and The Fifth Servant. He lives on Long Island.