---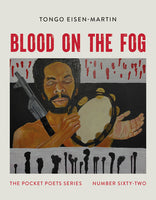 by Tongo Eisen-Martin
City Lights Books
9/21/2021, paperback
SKU: 9780872868755
Politically astute, filled with wisdom and great humanity, this is poetry meant to conjure a healing and provoke a confrontation, an invitation to a journey through Black America.
"Words are not the revolution itself, Eisen-Martin seems to say, and yet this book disturbed me more than any other I read this year. It reminds me that poetry can rewire our thinking--can actually change our minds--by using nothing like the rote language we're so used to hearing in speech and in prose. It can jolt us out of patterns, back into intelligence."--The New York Times, "The Best Poetry of 2021"
A rhapsodic follow-up to Tongo Eisen-Martin's Heaven is All Goodbyes, this collection further explores themes of love and loss, family and faith, refracted through the lens of Black experience. These poems honor intellectual tradition and ancestral knowledge while blazing an entirely new path, recording and replaying the poet's sensory travels through America, from its packed metropolises to desolate anytowns. Radical, outraged, knowing, wry, and deeply humane, these are poems of survival that soar with a vision of collective liberation.
2021 Golden Poppy Award Winner for Poetry - Chosen by the California Independent Booksellers Alliance
Reviews:
"The poems in Blood on the Fog erupt from Tongo Martin-Eisen's revolutionary zeal, but this collection is more than a simple manifesto. While anchored in socialist critique, these poems engage a wide range of political and social issues, including imperialism, racism and white supremacy, and police and the carceral state. ... Death, no doubt, is the end point, and if revolution looks forward to anything, it is to that. It's a difficult conclusion, but nothing about these poems is easy. One gets the feeling that any other approach--at least in Martin-Eisen's America--would be grossly disingenuous."--Poetry Foundation's Harriet Books
"In Blood on the Fog, find a poetry of 'swinging type body language' where the swinging swings like Ellington and Ali combined, knocking you out inside and out, and turning you around in this extraordinary book."--Terrance Hayes
About the Author:
Tongo Eisen-Martin is the Poet Laureate of San Francisco, California. He is the author of Heaven Is All Goodbyes (City Lights Books, 2017), which was shortlisted for the Griffin International Poetry Prize, received the California Book Award for Poetry, an American Book Award, and a PEN Oakland Book Award. He is also the author of someone's dead already (Bootstrap Press, 2015). Blood on the Fog, his newest collection of poems, is volume 62 in the City Lights Pocket Poets Series.