---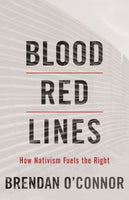 Sale
by Brendan O'Connor
Haymarket Books
1/19/2021, hardcover
SKU: 9781642592610
An engaging and reflective look at how austerity and the billionaire class paved the way for Trump's presidency, the rise of the "alt-right," and the caging of migrants children and adults in detention centers across the country.
For all of the energy that the far right has demonstrated-and for all of the support that they receive from institutional conservatives in the GOP and affiliated organizations-the United States is experiencing an upsurge in left-wing social movements unlike any other in the past half-century, with roots not in the Democratic Party but Occupy Wall Street and Black Lives Matter.
Drawing on his original reporting as well as archival research, O'Connor investigates how the capitalist class and the radical right mobilize racism to defend their interests, while focusing on one of the most pressing issues of our time: immigration.
Reviews:
"Brendan O'Connor's Blood Red Lines connects the dots, providing a vivid account of the rise of a unique kind of U.S. fascism, born on the border but now nationalized. O'Connor simultaneously produces empathy and outrage, in the exact proportions we need to fight back. Indispensable." -- Greg Grandin, Peter V. and C. Vann Woodward Professor of History at Yale University and author of The End of the Myth
"Blood Red Lines has set the bar for new works on the contemporary fascist right, for researchers and antifascist organizers both." -- Dissent
"A wide-ranging, deep-thinking, profoundly necessary book on the overlap between the alt-right and anti-immigrant movements on the boil in the United States--what O'Connor aptly calls border fascism. O'Connor deftly identifies the diverse contemporary and historical strains of xenophobic, racist, white nationalist, misogynistic, and eugenicist thought that has laid the groundwork for Trumpism, anti-immigrant cruelty, and insurgent alt-right violence in the United States. For anybody studying immigration policy or trends today, this part of the story cannot be overlooked: O'Connor's work in Blood Red Lines is essential." -- John Washington, author, The Dispossessed: A Story of Asylum at the US-Mexican Border and Beyond
About the Author:
Brendan O'Connor is a freelance writer and journalist covering inequality, political violence, and white supremacy. He was formerly an investigative reporter at Gizmodo Media's Special Projects Desk, reporting on dark money, the "alt-right" and militia movements, and immigration. He began his journalism career at The Awl, Gawker, and Jezebel. He is based in New York.