---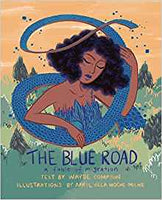 by Wayde Compton and April dela Noche Milne (illustrator)
Arsenal Pulp Press
10/22/2019, paperback
SKU: 9781551527772
In this stunning graphic novel, Lacuna is a girl without a family, a past, or a proper home. She lives alone in a swamp made of ink, but with the help of Polaris, a will-o'-the-wisp, she embarks for the fabled Northern Kingdom, where she might find people like her. The only way to get there, though, is to travel the strange and dangerous Blue Road that stretches to the horizon like a mark upon a page. Along the way, Lacuna must overcome trials such as the twisted briars of the Thicket of Tickets and the intractable guard at the Rainbow Border. At the end of her treacherous journey, she reaches a city where memory and vision can be turned against you, in a world of dazzling beauty, divisive magic, and unlikely deliverance. Finally, Lacuna learns that leaving, arriving, returning -- they're all just different words for the same thing: starting all over again.
The Blue Road -- the first graphic novel by acclaimed poet and prose writer Wayde Compton and illustrator April dela Noche Milne -- explores the world from a migrant's perspective with dreamlike wonder. Ages 12 and up.
Author:
April dela Noche Milne is a Filipino Canadian artist based in Vancouver. She studied fine arts at Langara College and graduated with a BFA in illustration from Emily Carr University of Art + Design. The Blue Road is her first graphic novel.