---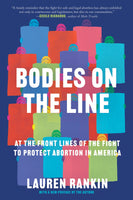 by Lauren Rankin
Counterpoint LLC
04/11/2023, paperback
SKU: 9781640095915
As the courts betray us and our leaders fail us, only we can keep each other safe.
In this powerful, empathetic look at abortion clinic escorting, "one of the most under-covered and crucial, lifesaving, rigorous forms of activism out there" (Rebecca Traister, New York Times bestselling author of Good and Mad), Lauren Rankin offers real hope -- and a real call to action for a post-Roe America.
Incisive and eye-opening, Bodies on the Line makes a clear case that the right to an abortion is a fundamental part of human dignity. And now that the Supreme Court has overturned Roe v Wade, the stakes facing us all if that right disappears have never been higher.
Clinic escorts -- everyday volunteers who shepherd patients safely inside to receive care -- are fighting on the front lines by replacing hostility with humanity. Prepared to stand up and protect abortion access as they have for decades, even in the face of terrorism and violence, clinic escorts live -- and have even died -- to ensure that abortion remains not only accessible but a basic human right. Their stories have never been told--until now.
With precision and passion, Lauren Rankin traces the history and evolution of this movement to tell a broader story of the persistent threats to safe and legal abortion access, and the power of individuals to stand up and fight back. Deeply researched, featuring interviews with clinic staff, patients, experts, and activists -- plus the author's own experience as a clinic escort -- Bodies on the Line reframes the "abortion wars," highlighting the power of people to effect change amid unimaginable obstacles, and the unprecedented urgency of channeling that power.

Reviews:
"Lauren Rankin has written a testament to the humanity that is central to the procedure, and the act, of abortion. She has walked the walk, and shared with other dedicated clinic escorts the fear and the dehumanization, and the threats, that patients face every time they walk into a clinic to receive basic health care. Here, directly from the front lines, are unique and untold stories that broaden our understanding of what it takes today for people to get the care they deserve, what we stand to lose when they can't, and what we need to do if we're to see our right to bodily autonomy fully realized. Bodies on the Line is an essential read for this moment of crisis." -- Martha Plimpton, actor, activist, and cofounder of A is For
"Bodies on the Line tells the story of the unsung heroes who have done so much to help women exercise their reproductive rights -- clinic escorts. Who they are, why they're there, and what they have endured is mind-boggling, frustrating, and ultimately inspiring. Americans owe a debt to these volunteer activists who literally put their bodies on the line for those rights." -- Elisa Camahort Page, co-author, Road Map for Revolutionaries: Resistance, Activism, and Advocacy for All
About the Author:
Lauren Rankin is a writer, speaker, and expert in abortion rights in the U.S. Her work has been featured in The Washington Post, The Cut, Fast Company, Teen Vogue, Refinery29, NBC News, and many more. She spent six years as an abortion clinic escort in northern New Jersey, and is a board member of "A is For," a reproductive rights advocacy organization.