---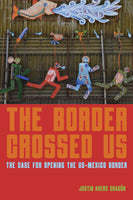 by Justin Akers Chacón
Haymarket Books
8/10/2021, paperback
SKU: 9781642594607
The aggressive exploitation of labor on both sides of the US-Mexico border has become a prominent feature of capitalism in North America. Kids in cages, violent ICE raids, and anti-immigrant racist rhetoric characterize our political reality and are everyday shaping how people intersect at the US-Mexico border. As activist-scholar Justin Akers Chacón carefully demonstrates, however, this vicious model of capitalist transnationalization has also created its own grave-diggers.

Contemporary North American capitalism relies heavily on an inter-connected working class which extends across the border. Cross-border production and supply chains, logistics networks, and retail and service firms have aligned and fused a growing number of workers into one common class, whether they live in the US or Mexico. While money moves without restriction, the movement of displaced migrant workers across borders is restricted and punished. Transborder people face walls, armed agents, detention camps, and a growing regime of repressive laws that criminalize them. Despite the growth and violence of the police state dedicated to the repression of transborder populations--the migra-state--migrant workers have been at the forefront of class struggle in the United States. This timely book persuasively argues that labor and migrant solidarity movements are already showing how and why, in order to fight for justice and re-build the international union movement, we must open the border. 
Reviews:
"At last, here is a book showing just how critical the demand for the freedom of workers' mobility is to the anti-capitalist movement. Justin Akers Chacón makes the urgent case for a new internationalism, one that openly rejects the divisive, racist, and anti-worker politics upholding national borders. With a clear-eyed examination of how labor repression is the core of the migra-state, Chacón's call for cross-border--and anti-border--organizing is shown to be a necessary part of working class politics everywhere." --Nandita Sharma, author of Home Rule: National Sovereignty and the Separation of Natives and Migrants
"The Border Crossed Us is a meticulously researched manifesto on the US-Mexico border. Justin Akers Chacón masterfully exposes how capital mobility necessarily criminalizes the movement of labor and, with radical and urgent clarity, he calls on all of us to strengthen the movement to open the border." --Harsha Walia, author of Border and Rule: Global Migration, Capitalism, and the Rise of Racist Nationalism
About the Author:
Justin Akers Chacón is an activist, labor unionist, and educator living in the San Diego-Tijuana border region. He is a Professor of Chicana/o History at San Diego City College. His other books include No One is Illegal (with Mike Davis) and Radicals in the Barrio.