---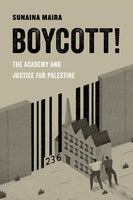 by Sunaina Maira
University of California Press
1/31/2018, paperback
SKU: 9780520294899
The Boycott, Divestment, and Sanctions movement (BDS) has expanded rapidly though controversially in the United States in the last five years. The academic boycott of Israeli academic institutions is a key component of this movement. What is this boycott? Why does it make sense? And why is this an American Studies issue? In this short essential book , Sunaina Maira addresses these key questions. Boycott! situates the academic boycott in the broader history of boycotts in the United States as well as in Palestine and shows how it has evolved into a transnational social movement that has spurred profound intellectual and political shifts. It explores the movement's implications for antiracist, feminist, queer, and academic labor organizing and examines the boycott in the context of debates about Palestine, Zionism, race, rights-based politics, academic freedom, decolonization, and neoliberal capitalism.
Number 4 in the University of California Press Series American Studies Now: Critical Histories of the Present.

Reviews:
"Sunaina Maira locates contemporary BDS activism and the considerable efforts to expand the academic boycott of Israel within an historical frame that links them to movements for racial, gender, and economic equality more broadly, as well as to other foundational social justice struggles. In deftly demonstrating that Palestinian solidarity belongs at the center of all of our justice concerns, Boycott! both exemplifies the challenge of this moment and urges us to fearlessly rise up to it." -- Angela Y. Davis, Distinguished Professor Emerita, University of California, Santa Cruz
"Sunaina Maira's book is a critically needed, brilliantly argued, and ethically woven argument for the academic boycott of Israel. Maira not only reveals the organic links between the struggle for Palestinian rights and the pursuit of racial, social, gender, environmental, and economic justice; she shines a bright light on the dangerous connection between the McCarthyite repression of the BDS movement for Palestinian rights and the gradual erosion of academic freedom in the increasingly neoliberal-influenced academe." -- Omar Barghouti, cofounder of the BDS movement
About the Author:
Sunaina Maira is Professor of Asian American Studies at the University of California, Davis.