---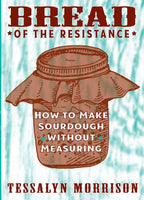 by Tessalyn Morrison
Microcosm Publishing
9/15/2020, paperback
SKU: 9781621063964
Build your own culture and resist!
Making sourdough bread can be intimidating for most of us. The idea that we need to have exact measurements, the unforgiving nature of sourdough, and the fear of failure drive many of us from even attempting the time consuming process.
In this book, Tess Morrison walks you through how to make sourdough bread, as well as a few other recipes that use fermentation, in a straightforward, understanding, and measurement-free guide with wonderful, clear illustrations showing every step of the process. The first half of the book is an introduction to the equipment, methods, and process--everything you need to know to start fermenting and baking. The second half contains recipes for crepes, crackers, and other delicious uses for your leftover starter, plus a wide variety of other measurement-free recipes for a wide variety of fermented and preserved foods, from yogurt to sauerkraut, tempeh to kombucha, and jam to salmon.
In the process of making bread from scratch, with your own starter, your own hands, your own time, you will find that making bread is not only an act of creation, but an act of resistance. It is resistance against consumer culture and against a society that has devalued quality and tradition in favor of convenience. Making your own bread will help you practice these traditions and rebuild these lost virtues. Put away your measuring cups and scales and learn how to truly see the bread, reacting to its needs and your senses, and in the process, make something that is uniquely your own.