---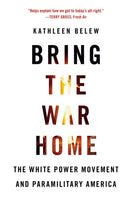 by Kathleen Belew
Harvard University Press
5/7/2019, paperback
SKU: 9780674237698
The white power movement in America wants a revolution.
Returning to a country ripped apart by a war they felt they were not allowed to win, a small group of Vietnam veterans and disgruntled civilians who shared their virulent anti-communism and potent sense of betrayal concluded that waging war on their own country was justified. The command structure of their covert movement gave women a prominent place. They operated with discipline, made tragic headlines in Waco, Ruby Ridge, and Oklahoma City, and are resurgent under President Trump.
Based on a decade of deep immersion in previously classified FBI files and on extensive interviews, Bring the War Home tells the story of American paramilitarism and the birth of the alt-right.
Reviews:
"Helps explain how we got to today's alt-right." --Terry Gross, Fresh Air
"This is a work of fierce intelligence. Belew shows how white power activists used their view of the Vietnam War to advance every element of their reactionary agenda and to justify domestic terrorism. A book of signal importance and urgency, it provides a haunting vantage point on contemporary American political culture." --Nancy MacLean, author of Democracy in Chains: The Deep History of the Radical Right's Stealth Plan for America
"Superbly comprehensive...supplants all journalistic accounts of America's resurgent white supremacism."--Pankaj Mishra"The Guardian"
"Bring the War Home is a tour de force. An utterly engrossing and piercingly argued history that tracks how the seismic aftershocks of the Vietnam War gave rise to a white power movement whose toxic admixture of violent bigotry, antigovernmental hostility, and racial terrorism helped set the stage for Waco, the Oklahoma City bombing, and, yes, the presidency of Donald Trump." --Junot Díaz
About the Author:
Kathleen Belew spent ten years researching and writing this book, examining previously classified FBI files and vivid personal testimonies and letters. She is Assistant Professor of History at the University of Chicago and has appeared on Fresh Air, Weekend Edition, and CBS News. Her work featured prominently in the PBS Frontline documentary "Documenting Hate: New American Nazis."