---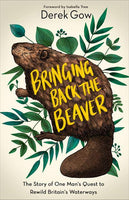 by Derek Gow
Chelsea Green Publishing
1/13/2022
SKU: 9781645021223
Bringing Back the Beaver is farmer-turned-ecologist Derek Gow's inspirational and often riotously funny firsthand account of how the movement to rewild the British landscape with beavers has become the single most dramatic and subversive nature conservation act of the modern era. Since the early 1990s--in the face of outright opposition from government, landowning elites, and even some conservation professionals--Gow has imported, quarantined, and assisted the reestablishment of beavers in waterways across England and Scotland.
In addition to detailing the ups and downs of rewilding beavers, Bringing Back the Beaver makes a passionate case as to why the return of one of nature's great problem solvers will be critical as part of a sustainable fix for flooding and future drought, whilst ensuring the creation of essential lifescapes that enable the broadest possible spectrum of Britain's wildlife to thrive.
With a foreword by Isabella Tree.
Reviews:
"Derek Gow might be the most colorful character in all of Beaverdom." -- Ben Goldfarb, author of Eager
"Gripping, illuminating, informative, amusing and inspiring in equal parts - I loved it. Bringing Back the Beaver is not only a ripping yarn with interesting and funny characters, tension and drama, it is an important tale of tenacity, the tenacity we need much more of to repair our depleted land." -- Lucy Jones, author of Losing Eden and Foxes Unearthed
"Like his subject, Derek Gow is industrious - woodily, wetly - and deeply committed to his project. To have beavers back in Britain gives all of nature - us included - a second chance at happier times. Gow tells us this with the clear-sighted and good-humoured energy and purposefulness of the animals he has come to love as well as admire. We all should be converted to his cause." -- Tim Dee, author of Landfill and Greenery
About the Author:
Derek Gow is a farmer, nature conservationist and the author of Bringing Back the Beaver. Born in Dundee in 1965, he left school when he was 17 and worked in agriculture for five years. Inspired by the writing of Gerald Durrell, he jumped at the chance to manage a European wildlife park in central Scotland in the late 1990s before moving on to develop two nature centres in England. He now lives with his children, Maysie and Kyle, on a 300-acre farm on the Devon/Cornwall border, which he is in the process of rewilding. Derek has played a significant role in the reintroduction of the Eurasian beaver, the water vole and the white stork in England. He is currently working on a reintroduction project for the wildcat and a book on our lost wolves.