---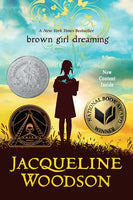 by Jacqueline Woodson
Puffin Books
10/11/16, paperback
SKU: 9780147515827
Jacqueline Woodson's National Book Award and Newbery Honor winner, now available in paperback with 7 all-new poems.
Raised in South Carolina and New York, Woodson always felt halfway home in each place. In vivid poems, she shares what it was like to grow up as an African American in the 1960s and 1970s, living with the remnants of Jim Crow and her growing awareness of the Civil Rights movement. Touching and powerful, each poem is both accessible and emotionally charged, each line a glimpse into a child's soul as she searches for her place in the world. Woodson's eloquent poetry also reflects the joy of finding her voice through writing stories, despite the fact that she struggled with reading as a child. Her love of stories inspired her and stayed with her, creating the first sparks of the gifted writer she was to become.
Target age 10 and up
Reviews:
The writer's passion for stories and storytelling permeates the memoir, explicitly addressed in her early attempts to write books and implicitly conveyed through her sharp images and poignant observations seen through the eyes of a child. Woodson's ability to listen and glean meaning from what she hears lead to an astute understanding of her surroundings, friends, and family." -- Publishers Weekly

"Mesmerizing journey through [Woodson's] early years. . . . Her perspective on the volatile era in which she grew up is thoughtfully expressed in powerfully effective verse. . . . With exquisite metaphorical verse Woodson weaves a patchwork of her life experience . . . that covers readers with a warmth and sensitivity no child should miss. This should be on every library shelf." -- School Library Journal

About the Author:
Jacqueline Woodson is the recipient of the 2020 Hans Christian Andersen Award, the 2018 Astrid Lindgren Memorial Award, and the 2018 Children's Literature Legacy Award. She was the 2018-2019 National Ambassador for Young People's Literature, and in 2015, she was named the Young People's Poet Laureate by the Poetry Foundation. She received the 2014 National Book Award for her New York Times bestselling memoir Brown Girl Dreaming, which was also a recipient of the Coretta Scott King Award, a Newbery Honor, the NAACP Image Award, and a Sibert Honor. Award for lifetime achievement for her contributions to young adult literature and a two-time winner of the Jane Addams Children's Book Award.