---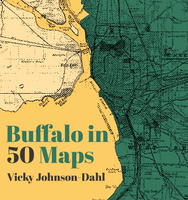 by Vicky Johnson-Dahl
Belt Publishing
3/21/2023, hardcover
SKU: 9781953368485
The third entry in Belt's urban cartography series, Buffalo in 50 Maps offers a truly unique view of the City of Good Neighbors, from the East Side to Millionaires' Row to Cazenovia Park.
The best maps give you a feeling for what a place is really like, and Buffalo in 50 Maps offers a brand-new look at both the past and present of the Queen City of the Great Lakes. Through its colorful maps and insightful commentary, you'll discover the history of the city's changing boundaries, its numerous breweries, and its most popular bus routes. Learn how long it takes to get to a Bills game on Sunday, why the city smells like Cheerios, or where the city's immigrants have recently opened businesses. You'll also discover the city's food deserts, how the layout of its streets led to intense segregation, and how its vacant lots reveal where reinvestment and development have actually taken place.
It's a beautiful and nuanced look that's perfect for Buffalo natives but also for those who just want to get to know the city a little bit better.
About the Author:
Vicky Johnson-Dahl is a cartographer, drummer, ice cream maker, director at large of the North American Cartographic Information Society (NACIS), and a Buffalo native. Her favorite things to do in Buffalo are kayak on the river and enjoy a chicken finger sub. Vicky currently lives in Washington, DC, with her husband and cat. Go Bills.