---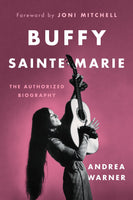 by Andrea Warner
Greystone Books
2/20/2021, paperback
SKU: 9781771647298
A powerful, intimate look at the life of a beloved folk icon and activist.
Folk hero. Songwriter icon. Living legend. Buffy Sainte-Marie is all of these things and more. In this, Sainte-Marie's first and only authorized biography, music critic Andrea Warner draws from more than sixty hours of exclusive interviews to offer a powerful, intimate look at the life of the beloved artist and everything that she has accomplished in her seventy-seven years (and counting).
Since her groundbreaking debut, 1964's It's My Way!, the Cree singer-songwriter has been a trailblazer and a tireless advocate for Indigenous rights and freedoms, an innovative artist, and a disruptor of the status quo. Establishing herself among the ranks of folk greats such as Joni Mitchell and Bob Dylan, she has released more than twenty albums, survived being blacklisted by two U.S. presidents, and received countless accolades, including the only Academy Award ever to be won by a First Nations artist. But this biography does more than celebrate Sainte-Marie's unparalleled talent as a songwriter and entertainer; packed with insight and knowledge, it offers an unflinchingly honest, heartbreakingly real portrait of the woman herself, including the challenges she experienced on the periphery of showbiz, her healing from the trauma of childhood and intimate partner violence, her commitment to activism, and her leadership in the protest movement.
With a foreword by Joni Mitchell.
Reviews:
"This well-rounded and thorough authorized biography is perfectly timed - not just welcome but vital...Warner understands how intrinsically art and activism coexist for Sainte-Marie. There wouldn't be one without the other." -- Quill & Quire
"Long overdue, Andrea Warner's expansive, authorized biography reveals the astonishing range and breadth of Buffy Sainte-Marie's work as a musician and writer, activist, educator, and spiritual leader. She is a true star, and this book goes a long way toward showing us how and why." -- Chris Kraus, author of I Love Dick and After Kathy Acker: A Biography
"This book serves as proof that one person can make a world of difference. Buffy Sainte-Marie is a wonder--and the writing here reflects her truth, gentle forcefulness, intellect, and thoughtfulness." -- Tracey Lindberg, author of Birdie
"Buffy Sainte-Marie's career is enormously more impressive and significant than has been acknowledged or understood. This book draws decades of incredible, world-changing accomplishments together to make an irrefutable case for her place among the rock 'n' roll and songwriting greats. " -- Tanya Tagaq, Inuk songwriter and throat singer; winner of the 2014 Polaris Prize for Animism as well as multiple Juno Awards.
"Buffy Sainte-Marie is an icon and inspiration. This book is necessary--an authorized insight into the making of a legend." --Terese Marie Mailhot, author of Heart Berries
About the Author:
Andrea Warner is the author of Buffy Sainte-Marie: The Authorized Biography (Greystone Books, 2018) and We Oughta Know: How Four Women Ruled the '90s and Changed Canadian Music (Eternal Cavalier Press, 2015). A freelance writer, Andrea is also an associate producer at CBC Music, a theatre critic at the Georgia Straight, a radio columnist, and the co-host of the weekly podcast Pop This!. Her pronouns are she/her/hers, and she is a settler who was born and raised in Vancouver on the unceded traditional territories of the Musqueam, Squamish, and Tsleil-Waututh First Nations. Pop culture, art, and feminism make her happy